ENVIROMENTAL CONSERVATION AREAS IN PORSANGER Vækker nature reserve
Established 1991
Area: 0,6 km²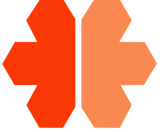 Conservation objective
Maintaining a distinctive brackish water poll. The area is an important staging area for ducks and waders, and has beach beds with distinct vegetation types and several rare species.

Vækker Nature reserve is located around Lake Surbukt. This brackish water pollen is one of very few of its kind in Norway. Around the pond there are the beach beds of brackish water type. Of more specific species there are large amounts of Primula nutans and Hiperus lanceolata.
The Surbukt pond in Vækker is an important staging area for ducks. In Vækker there are recorded 11 species of ducks and a variety of wader species.
Among the most common ducks, we find Wigeon, Pintail and Tufted duck.
By the Surbukt pond in Vækker, there is a bird watching platform where you have good view of the Reserve.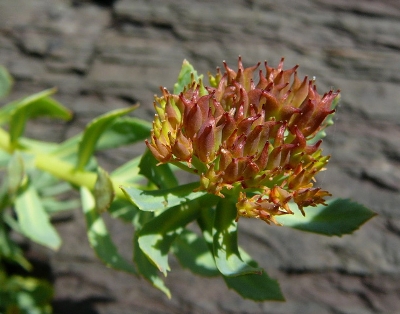 Poto: Stabbursnes Naturhus og Museum

Among the protection provisions, it is important to note the following:
The vegetation is protected against all harm and destruction. New plant should not be introduced. It is allowed to pick mushrooms.
All game, including winter lair, nests and eggs, are protected against all harm, destruction and unnecessary interference. Hunting, trapping and the use of firearms are not allowed.
It is mandatory to keep your dog in a leash for the entire year.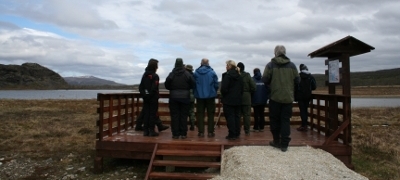 Photo: Stabbursnes Naturhus og Museum
Click!

Access
Approximately 4.5 km south of the Børselv Bridge along Route 98 there is an exit to a gravel road to the Northwest, with the sign Vækker. About 400 meters along the road at the reserve boundary there is an info board about Vækker nature reserve and a platform for bird watching.

Information & service
Stabbursdalen national park service centre is located on Stabbursnes about 15 km north of Lakselv by E6. Here you can get information on the nature reserve and purchase fishing and hunting licenses. In addition, the national park services centre has got a permanent exhibition and a video show about the nature of Finnmark. Information on accommodation and services is provided by Arctic Active.

Maps
Printed maps:
map series Norge 1:50 000:
2035 I Børselv

Information
Stabbursnes Nature house and Museum
Phone +47 78 46 47 65
stabburs@online.no
The park is managed by:
County Governor of Finnmark
Environment Department
NO-9815 Vadsø
Phone: +47 78 95 03 00
Fax: +47 78 95 03 70
postmottak@fmfi.no
Local contact:
Statens naturoppsyn
NO-9711 Lakselv
Phone: +47 78 46 48 11