ENVIROMENTAL CONSERVATION AREAS IN PORSANGER Reinøya nature reserve
Established 1981
Area: 12,6 km²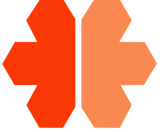 Conservating objective
To preserve a representative area for the Porsanger dolomite with its unique vegetation and animal life on the island.
Reinøya lies in the Porsangerfjord, just southwest of Børselv. The island has special a geology and an interesting flora. The dolostone with its white colour, combined with the size of the island makes the island clearly visible from both sides of the Porsangen fjord.
Dolomite is a white limestone rock that forms the bedrock in a major field in Porsanger. Dolomite is a common rock-forming mineral, i.e. in dolomite
marble and dolostone. The latter is often called for
dolomite
, but it is more natural to distinguish between the mineral dolomite and dolostone rock.
Use: Dolomite is an important raw material in the production of household glass, window and woven glass fabric. It is also used as a soil improvement agent and magnesium source in agriculture. Very pure white dolomite can be used as fillers in paints, plastics and glue, and in washing powder and toothpaste. It is also used for the manufacture of magnesium metal.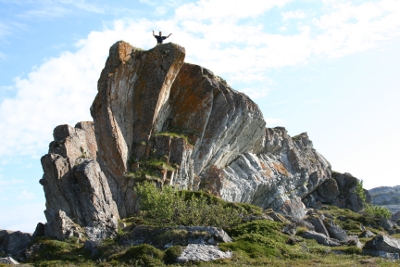 Photo: Stabbursnes Naturhus og Museum
On the surface of the dolomite bedrock there are some places ring-shaped structures, stromatolites, which are traces of algae colonies from earlier geological periods.
On the island there are also fields with fine-designed raised beaches and rock terraces.
The island has barely any vegetation, but there is a special flora of nutrient demanding and rare species, such as Dwarf Clubrush, Smoothing Braya and Mountain Eyebright. On the least weather-exposed locations, there are populations of birch with a number of rowan and goat willow.
In earlier times the island has been used for grazing, egg gathering, hunting and trapping. On the north side of the island there has also been a fish processing plant. Reinøya has also been used as summer pasture for reindeer.



Photo: Gry Ingebretsen
Click!

Access
A visit to Reinøya is difficult to implement without a boat. By boat Kolvik and Hestnes are fine starting points.

Information & service
A wildlife national park centre is located on Stabbursnes about 15 km north of Lakselv by E6. Here you can get information on the nature reserve. In addition, the centre has got a permanent exhibition and a multimedia show about Finnmark nature. Information on accommodation and services (boat) can be obtained from Arctic Active.

Maps
Printed maps:
Map series Norge 1:50 000: 2035 II Muŋkavarri
og 2035 I Børselv

Information
Stabbursnes Nature house and Museum
Phone +47 78 46 47 65
stabburs@online.no
The park is managed by:
County Governor of Finnmark
Environment Department
NO-9815 Vadsø
Phone: +47 78 95 03 00
Fax: +47 78 95 03 70
postmottak@fmfi.no
Local contact:
Statens naturoppsyn
NO-9711 Lakselv
Phone: +47 78 46 48 11