ENVIROMENTAL CONSERVATION AREAS IN PORSANGER Stabbursnes nature reserve
Established 1983
Area: 16 km²
of which ca. 2,3 km² is dry land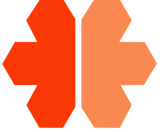 Conservation objective
To secure a wetland area of international importance as a staging and breeding area for several species of ducks, geese and waders
To secure a large, continuous sea shore meadow with arctic plants and plant communities
Stabbursnes nature reserve is located on both sides of the river outlet. Stabbursnes is a large delta of glacifluvial deposits. Outside the headland the sea is very shallow and Stabbursnes nature reserve comprises some of the largest continuous low-tide areas in Norway.
The most distinctive part of the vegetation in the area is the large plains with sea meadow, i.e. clay beach vegetation with plant species which are salt
tolerant. Here are instances of many arctic plant species and plant communities, including the arctic grass Puccinellia phryganodes and the fourleaf mare's-tail
Hippuris tetraphylla
. The largest marshes can be found at the Valdakmyra on the south side of Stabbursnes headland, and north of the river outlet.
The inner part of the Porsanger fjord, with its large beaches, mud flats, shallow water, river outlets, islets, straits and tidal current is one of the most important wetland areas for birds in Norway. The Stabbursnes nature reserve involves the most important part of this system. Ducks, geese and waders are using the area, which is important as a staging site during migration and as breeding site for numerous waders. During winter it is especially important for eider ducks. Ducks and geese especially use the large sea meadows as staging place. There are recorded 23 species of duck (of which 6 species of goose) and 25 species of wading bird in the nature reserve.
In the vast areas outside the sea shore many wading birds rests during migration. Particularly remarkable is the large number of species of the arctic wader Knot Calidris canutus, where flocks of up to 30 000 individuals have been observed.
Stabbursnes nature reserve is particular important for the rare Lesser White-fronted Goose Anser erythropus, because the flock that each year stage on Valdakmyra constitute approximately 80% of the remaining wild population in Fennoscandia. This is assumed to count only 15-20 couples (2007). The Lesser White-fronted Goose arrives at the Valdakmyra in mid-May and leave for the nesting grounds on the Finnmark plateau in late May and early June. After the breeding season in the second half of August the Lesser White-fronted Goose comes back to Valdakmyra. They stay here until the first half of September. All traffic is prohibited during both spring and autumn to shield the Lesser White-
fronted Goose that stage on Valdakmyra from disturbance. Valdakmyra is the only location in Europe where you can easily see the Lesser White-fronted Goose during the spring migration.
On the south side of Stabburnes there is a bird watching hut overlooking the Valdakmyra (see map). It is open in the appropriate time for bird watching.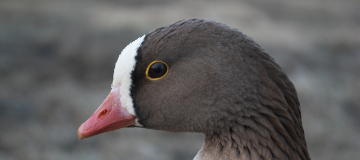 Lesser White-fronted Goose - Photo: Ingar J. Øien
Click!

Access

Information & Service

Maps
Printed maps:
Map series Norge 1:50 000: 2035 III Lakselv
Turkart Stabbursdalen

Information
Stabbursnes Nature house and Museum
Phone +47 78 46 47 65
stabburs@online.no
The park is managed by:
County Governor of Finnmark
Environment Department
NO-9815 Vadsø
Phone: +47 78 95 03 00
Fax: +47 78 95 03 70
postmottak@fmfi.no
Local contact:
Statens naturoppsyn
NO-9711 Lakselv
Phone: +47 78 46 48 11