ENVIROMENTAL CONSERVATION AREAS IN PORSANGER Stabbursdalen special landscape area
Established 2002
Area: 189 km²

Conservation objective
To secure a distinctive and beautiful landscape in relation to Stabbursdalen national park, and to secure an area of the world's northernmost pine forest. Significant quaternary geology values helps to give the area its distinctive character.
Preserving the natural basis in the national park is important for the Sami culture and economic exploitation. The area can be used for reindeer husbandry, nature experience and performance of traditional and simple outdoor life with a small degree of technical facilitation. In addition, the special landscape area, along with Stabbursdalen national park, will help to preserve a coherent wilderness area that also contains many cultural monuments.
Stabbursdalen special landscape area borders to the Stabbursdalen national park. The majority of the pine forest is in the special landscape area. Besides Stabbursdalen, the special landscape area covers the eastern part of the mountain ranks Gaissene (see review, Stabbursdalen national park).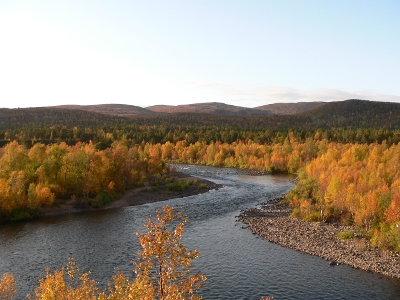 Lombola in September - Photo: Tove Persen

In Stabbursdalen the special landscape area is marked by human activity, both new and old. Trapping ditches and sites are examples of the latter. More visible are the current systems and fences attached to the reindeer husbandry. There are also roads and recreational cabins in the area.
The parking area by Lombola, which is located in the special landscape area, is a good starting point for visitors to both the special landscape area and the national park. From the parking lot there are marked trails to Rørkulpen, Stabbursfossen and the mountain Stuorra Biŋalvárr which gives a great view of Stabbursdalen from the top.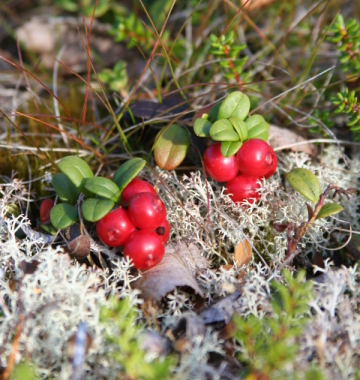 Cranberries - Photo: Stabbursnes Naturhus og Museum
Click!

Access

Information & Service

Maps
Printed maps:
Map series Norge 1:50 000:
2034 IV Skoganvarre
2035 III Lakselv
Turkart Stabbursdalen

Information
Stabbursnes Nature house and Museum
Phone +47 78 46 47 65
stabburs@online.no
The park is managed by:
County Governor of Finnmark
Environment Department
NO-9815 Vadsø
Phone: +47 78 95 03 00
Fax: +47 78 95 03 70
postmottak@fmfi.no
Local contact:
Statens naturoppsyn
NO-9711 Lakselv
Phone: +47 78 46 48 11