ENVIROMENTAL CONSERVATION AREAS IN PORSANGER Bihkkač¨ohkka nature reserve
Established 2007
Area: 1 km²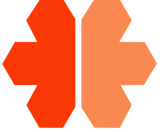 Conservation objective
To preserve a virtually untouched ecosystem of broadleaf forest area with all the natural flora and fauna. Special qualities are lime demanding vegetation on dolostone bedrock, and a high number of species, including rich deposits of orchids. The area is special as an area with several vegetation types and a wide diversity of species. Preserving the natural basis in the nature reserve is important for the Sami culture and economic exploitation. The area is to be used for reindeer husbandry.

Bihkkač¨ohkk nature reserve is located on the hillside towards the mountain Bihkkač¨ohkk, on the west side of the road through Børselvdalen.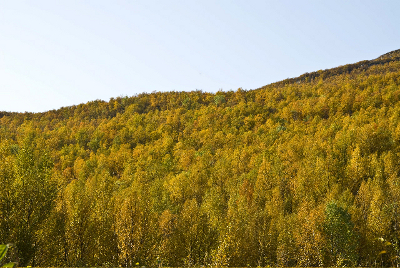 The forest in autumn - Photo: Almar Paulsen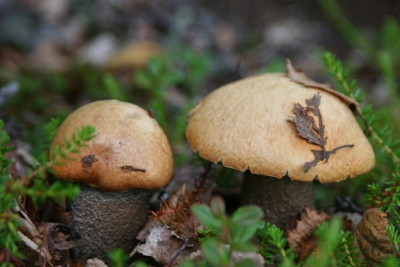 Photo: Stabbursnes Naturhus og Museum

Birch dominate in the locality Bihkkač¨ohk. Here we find different vegetation zones, from high birches at the bottom of the hillside and Dryas octopetala on the top. In the forest we find in addition to birch, elements of rowan, goat willow and aspen. Of interesting species can be mentioned; Lesser Butterfly-orchid, Long-Bracted Green Orchid and Chives. The area is generally rich in orchids; amongst others the orchid Listera ovate is registered. This is unique for Finnmark.
Like Børselvdalen here is also registered a relatively high density of passerine birds, including the Common Redpoll, the Willow Warbler and the Brambling. Numbers of registered birds are not particularly high.
The area is grazing pasture for sheep and reindeer.

Among the protection provisions that apply to Bihkkač¨oh nature reserve, it is important to note the following:
Go on foot and on skis where you want. You can also pick berries, mushrooms, and hunting and fishing in the reserve. Remember, hunting and fishing licenses. If you create a bonfire, use dry branches and twigs.
It is forbidden to remove plants or plant parts from the reserve. Fauna, including nest sites and hibernation areas are protected against damage and destruction.
Click!

Access
The nature reserve is located approximately 4 km northeast from Børselv (Route 98). It is not organized exit / parking in relation to the nature reserve.

Information & service
Stabbursdalen national park service centre is located on Stabbursnes about 15 km north of Lakselv by E6. Here you can get information on the nature reserve and purchase fishing and hunting licenses. In addition, the national park services centre has got a permanent exhibition and a video show about the nature of Finnmark.
Information on accommodation and services is provided by Arctic Active.

Maps
Printed maps:
Map series Norge 1:50 000:
2035 I Børselv

Information
Stabbursnes Nature house and Museum
Phone +47 78 46 47 65
stabburs@online.no
The park is managed by:
County Governor of Finnmark
Environment Department
NO-9815 Vadsø
Phone: +47 78 95 03 00
Fax: +47 78 95 03 70
postmottak@fmfi.no
Local contact:
Statens naturoppsyn
NO-9711 Lakselv
Phone: +47 78 46 48 11