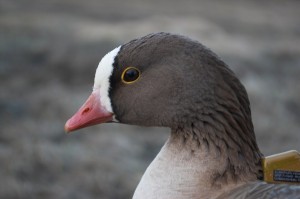 Stabbursnes Nature Reserve is the only place in Europe where you can easily see the Lesser White-fronted Goose (Anser erythropus) during spring migration in May and fall migration in late August/early September. The Lesser White-fronted Goose was once a common breeding bird in the mountains of Nordland and Finnmark. Nowadays only approx. 20 couples (80% of the total population in Fennoscandia) rests in Stabbursnes Nature Reserve during spring, before they fly on to the breeding areas on the Finnmark plain.
Norwegian Ornithological Society has monitored the remaining stock intensively for over 20 years.
Stabbursnes Nature House and Museum has prepared an online exhibition; "Last migration", discussing biological diversity and the ongoing work to rescue the Lesser White-fronted Goose from extinction in Fennoscandia.
Here you can find more information about the Lesser White-fronted Goose:
Norwegian Ornithological Society
Webpages for the Fennoscandian project of Lesser White-fronted Goose